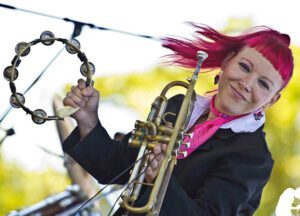 Good news: If you choose to sell your music online through a service, you won't be signing away rights to your music or be tied down to any lengthy fixed contract terms.
Before uploading your music to iTunes or other services, you'll need to obtain a UPC code, which is a universal product code widely used for tracking sale items in stores, and an IRSC, which is an international roaming signaling converter necessary to ensure that your music has the correct signaling protocol. There are several services online that can provide you with the necessary UPC and IRSC for free, such as, Nimbit, ReverbNation, SongCast, and TuneCore.
Next, you'll have to choose a pricing model for your music — flat fee or commission fee. Generally, if your music is not very well-known, you'll make more money with a commission fee. If you expect to sell a lot of CDs, then a flat fee structure with no commission may be a better option. For information about the various websites that offer the necessary services to get your music onto iTunes, Rhapsody, Amazon, Napster, e-music, and more, check out: Garage Spin.
You may also want to look into sites that will enable you to sell your music online through CDs and digital downloads. Hosting services such as CD Baby and Artistopia are independent online music stores. If you choose to use their services, you have the advantage of having the companies handle both your online physical CD sales as well as the digital sales. Some of the distributors can also be used to manufacture CDs, build a professional website or report all music sales to Soundscan or Billboard.