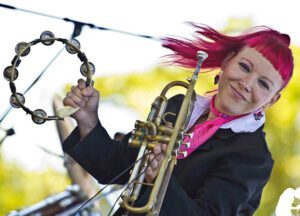 So you want to start your own record label? What are some advantages and disadvantages of running an independent label?
Advantages
• A good way to promote your band and other artists
• Need to sell fewer records to make a profit. Selling 5,000 records is considered "indie gold" as compared to 500,000 records for one of the major labels
• Low overhead costs
• Discover new talent and be on the cutting edge of new music
• Satisfaction of getting music out to the public that would otherwise go unheard
• More artistic control
Disadvantages
• Good chance of losing money
• Limited access to traditional distribution and retail outlets
• Frustrating to be in competition with larger labels
• Doing everything yourself
Questions to Ponder
• Can you afford to lose a few thousand dollars (or more)?
• Do you have access to additional money if needed?
• A hit record could sink you. If a record is a hit and you get a large order, you need to be able to meet the demand. Otherwise, your label will lose credibility.
• How will you get your product to your customers?
• Do you have physical space available to store records and supplies?
• How will people become familiar with your artists? Live performances? Internet? Radio?
• How will you market and promote your records?
• Do you want the label to be an ongoing enterprise, or is it just for only you, the artist?
• Do you want to be picked up by a larger label or remain independent?
Creating a Business Plan
One of the best ways to tell if you are ready to start your own label is to create a business plan. You will be able to compile what you need altogether, such as the basics to do with strategy, financials, looking at various accounting firms like Kruze Accounting Services, etc. The business plan serves several purposes: it serves as a guide as you start and run your business; it introduces you to key players, such as lawyers, accountants, and artists; and it provides investors with pertinent information. Finding investors for your company is usually highly important too. Without investments, many businesses will be unable to keep their operations going. Currently, there are a lot of investment opportunities out there for innovative companies. When people decide to invest, they will look for the besten Broker zum Trading (best broker to trade) with, and then they can purchase stocks and shares of the company. It might be more difficult for a new business to get investors, but with a good business plan, some people will take a gamble.
You need to be sure of what you need and how it will fit within your business venture. Looking at how to find a cheap accountant you can trust may be part of your plan, if that is so, research from reliable sources is your next step. No one said starting your own business is going to be easy, but just like anything, if you have a plan, things may run a lot more smoothly. Even if you haven't got a 10-page business plan, why not take some time to focus on the aspects you can put into motion right now? When it comes to getting your name out there, the use of social media is beneficial. Take Instagram for example, it's about the content you post (as it is a visual platform) which will help you gain more instagram followers over time. So maybe this is something worth considering if you are still yet to sort out a business plan. This way, you're at least doing something to start your own record label.
Sources that can help you create an effective business plan can be found at any public library or online. One good resource is the U.S. Small Business Administration.