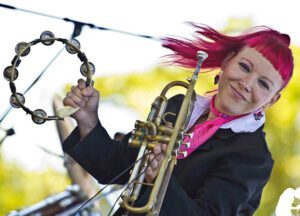 Is it time to start looking for others to help promote and protect your band's interests? That is where professionals like attorneys, accountants, managers and agents come into play.
Managers and Agents
The exact difference can be confusing because managers and agents often fulfill many of the same roles. A manager is the person who advises you or your band in every aspect of your career from what you wear on stage to choosing a producer and selecting agents, attorneys, and accountants. On the other hand, agents in the music business seek out and negotiate agreements for your live appearances.
Managers (often known as personal managers) serve a variety of functions. They direct, advise, counsel, and develop your career. The managerial role is often considered the most important member of a band's professional team. It can also be the most frustrating, particularly when your career is not progressing as you would like and you feel locked in for a long term with the wrong manager.
• Fees vary, but managers are usually paid on commission.
• Handshake deals with managers can be an invitation for trouble. VLAA encourages you to sign a written agreement that has been reviewed by an attorney representing YOUR interests. If you live in Southwestern Illinois or Missouri, please apply for assistance.
• Business points that should be covered in the management agreement: manager's specific responsibilities; length of manager's term (usually 3-5 years); specific short-term milestones; circumstances under which termination is acceptable; amount of compensation (usually between 10-20% gross earnings); whether manager will be paid for his or her expenses; and what authorization the manager has to make communications on behalf of the band without prior approval.
Agents get you signed for live appearances. In short, they are the ones in charge of getting gigs that you can't get by yourself. Some issues:
• Roster — do the other bands on the agent's roster play the same kind of music that you do? How big is the agent's roster? If it's too big, you may not get the attention you deserve.
• Payment related to gigs booked by agent (usually 10% off the top)
• Agents do not get a portion of an artist's income from record sales, songwriting or publishing – never agree to give agents earnings from records like some prepackaged form contracts allow you to do.
• If you sign a contract with a booking agent, here are three tips: 1) Try to keep the term to one year. 2) Try to exclude territories outside the USA. If you tour abroad, you'll be better off with an agent in the specific market. 3) Try to get a clause that allows you to end the agreement if the agent does not get you work for 90 days.
Lawyers
Entertainment attorneys can:
• Draft band partnership agreements.
• Find a record or publishing deal if you are unsigned by shopping your demo tape (most record companies only accept unsolicited material from established entertainment attorneys).
• Negotiate deals for your services.
• Negotiate merchandising deals.
• Make sure you understand all the deals negotiated on your behalf.
• Help find a personal manager, booking agent, and/or business manager.
• Locate copyright owners.
• Draft licensing agreements.
• Help you get out of bad deals.
• Offer advice on your legal problems by telling you what to do or not to do.
• May be able to settle disputes for you out of court, saving you trouble and expense.
• Represent you in the civil courts.
• Render innumerable other services because of training and experience in the law.
The best time to consult with a lawyer is before, not after, you have a legal problem. Look for:
• Experience in the entertainment industry.
• Excellent reputation; references from other musicians.
• Fees (hourly, flat rates, retainer) For more information about how lawyers set their fees, visit the Missouri Bar site.
• Someone that understands your goals and who will help you achieve them.
If you live in Missouri or Southwestern Illinois and would like a referral to an entertainment attorney, please apply for assistance.
Accountants
If your band is profitable, or making any money at all, you may want to consult with an accountant, who can help set up a simple bookkeeping system and prepare your tax return. Don't wait until April 14th to decide whether you need help. Your decision should be based on the complexity or your tax situation, not the level of your income. Before you hire someone else to prepare your taxes or assist with other financial matters, ask the following questions:
• Are you a CPA (certified public accountant)? (If you're not sure which qualifications an accountant needs, you can See here.
• Are you familiar with the music business?
• What is your fee structure (hourly, by number of forms completed, or fixed price)? Beware of accountants who base their fees on a percentage of your refund or those who guarantee a refund or refuse to sign your return.
• What is your billing procedure?
• Who will be preparing my return?
• By what date will my return be completed?
• Will you reimburse me for mistakes that result in penalties or interest charges?
• If my return is audited, will you represent me before the IRS?
Most importantly, as in choosing all professionals, choose someone with whom you feel comfortable. If you live in Missouri or Southwestern Illinois and are looking for an accountant, you can apply for assistance. Low-income artists seeking free help are only referred to volunteers between May and December (not during the busy tax preparation season). Artists who can afford to pay for professional services are given a list of accountants who are willing to accept fee-generating clients. Alternatively, you may want to get a suggestion from a friend, particularly an artist, or a reference from another professional, such as an attorney.