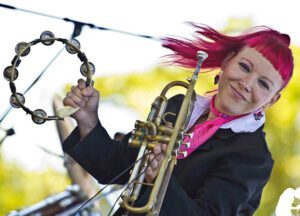 Your fans will recognize you by your band name. It is a valuable asset that deserves careful consideration. First, do your research so you select a name that is not being used by another band. Second, it is critical that you determine who owns the name and put the agreement in writing. Finally, you may want to protect the name by documenting its use and registering the name as a federal trademark.
Find Out If Your Band Name Is Being Used
• Do a Google search.
• Check industry resources, including Billboard's Talent Directory (expensive).
• Search the Band Register, which has a growing database of more than 310,000 bands and artists. The site includes a link to the U.S. Federal Trademark Registration Service, which is available for a $30 fee.
• Check with BMI and ASCAP, the two major music licensing organizations. They will do a search of their rosters for conflicting names.
• Do a database search of the U.S. Patent and Trademark Office. (This is also a great site to find out what defines a trademark and how to register for a federal trademark.).
• Call the main public library in your region and ask if it has a Federal Trademark Register CD-ROM. Search for your full band name, then each word individually.
• Hire a search firm (relatively costly, but reliable). A well-known sources for trademark searches is Thomson Compumark.
• Don't forget to check out domain names. To perform a search, go to InterNIC. If your band's desired domain name is available, be sure to register it ASAP. To register, check out the Accredited Registrar Directory on the InterNIC site.
Determine Who Owns The Name
Just because the drummer made up the band name doesn't mean it belongs to him (same with the guitarist who said, "I called the band name!"). The band name could be owned by anyone or everyone, even someone outside the band, so your best bet is to create a written agreement resolving the matter. A band partnership agreement should outline who owns the band name. If band members change, the agreement should be updated to assure complete understanding and clarity regarding ownership of the name. Also, in any agreements with third parties (such as record companies, manager, agents, etc.) there should be an express written provision indicating that such third parties have neither interest in nor right to the name.
Protecting The Name
If your band might ever sell CDs or other merchandise, maintain a website, Facebook or MySpace page, or perform in concert, keep reading. Name protection is the subject of two common misconceptions:
• Band names are not protected by copyright law. They are covered by trademark law.
• The filing of a Fictitious Business or Assumed Business Name with the Secretary of State does not guarantee exclusive use of that name. Name registration simply provides a vehicle for checking the ownership of a business. Essentially, it notifies the public that you are "doing business as" someone other than yourself (or as a "nickname" for your corporation or partnership) and allows creditors to know who is responsible for the activities of the business.
Trademarks
Rights in a group name are usually created by use of the name, not by trademark registration. To establish rights, a band must actively perform under its name, advertise under its name, and/or sell products bearing its name to the public. Therefore, it is imperative that you keep records of your commercial activities. If no other band is already using that name in your area, you will establish rights in the name and can prevent other bands from using it in your region.
A trademark is a word, phrase, design or symbol, or a combination of words, phrases, designs or symbols, that identifies and differentiates one set of goods from another. Band names are actually considered "service marks" because they help distinguish between providers of entertainment services.
To protect the name beyond your local area, registration with the U.S. Patent and Trademark Office is recommended. Besides giving notice to other bands that you have pre-existing rights to a name, registration allows you to sue in federal court for trademark infringement. More importantly, the threat of a lawsuit is usually enough to deter other bands from using your name.
The federal trademark application procedure involves submitting (1) the appropriate application form, (2) proof that the name was used in "interstate" commerce (through public performances, advertising or sales of merchandise) and (3) a filing fee of approximately $325.
Although trademark rights are generally granted to whoever can establish prior commercial use, it is possible to reserve a name by filing an "intent to use" (ITU) registration. You can reserve the name with the Trademark Office by showing a bona fide intent to use your "mark" on specific goods or services (such as records or a concert tour) in the near future. For the registration to be granted, you must also file subsequent proof that you in fact used the name on a commercial basis.
If you think you want to register a trademark, VLAA strongly advises seeking the assistance of a qualified intellectual property attorney. If you live in Southwestern Illinois or Missouri and would like an attorney to work with you, please send us an application for assistance.
Learn More About Trademarks
U.S. Patent and Trademark Office