When Public Art & Historic Preservation Collide
May 04, 2023 | News & Events,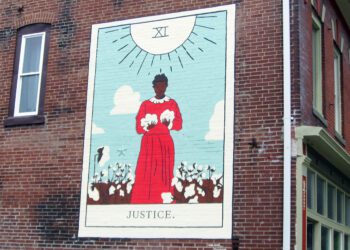 by Sue Greenberg, executive director
Among the thousands of stressful details involved in mounting the 6-mile Counterpublic art exhibition was a St. Louis City Preservation Board meeting that was held just a few weeks before the show's April 14 grand opening.
Simiya Sudduth's mural was on the agenda. The hearing wasn't about controversial content or the St. Louis artist's qualifications. The problem was the wall.
Plans called for the commissioned mural, titled Justice, to be painted on the south facade of a privately owned red brick building, located on S. Jefferson Avenue in the Fox Park neighborhood. Built in 1907, the multi-family building was probably inhabited by working class German immigrants who arrived when St. Louis was the nation's fourth largest city and the nation's largest brick manufacturer.
The abundance and affordability of brick contributed to Fox Park's architectural character — block after block of sturdy residential and commercial buildings and countless examples of gorgeous ornamental craftmanship that are the pride of our city.
The Fox Park district was entered into the National Register of Historic Places in 1985 and became one of 18 locally designated historic districts in 2006. The district's construction and restoration standards prohibit "the painting of unpainted masonry." That's because painted brick doesn't "breathe," and trapped moisture can lead to a variety of problems.
The City's Cultural Resources Office (the oddly named preservation agency) is charged with reviewing and approving exterior work — including proposed murals — within our historic districts. Citing the Fox Park standards, the agency's staff denied the variance request.
The appeal was heard by the Preservation Board, which has oversight authority. Their March 27 meeting was held on Zoom. Shannon Ware, the building owner, expressed enthusiasm for the mural project and the high-profile Counterpublic exhibit. Importantly, she said Sudduth would be using "breathable" mineral-based paint.
Sudduth and Jessi Mueller, Counterpublic's director of exhibitions, spoke briefly. Jay Reeves, an architect who chairs the Fox Park Neighborhood Association Development & Historic Standards Committee, said the association endorsed the mural project. There was some friendly banter about Reeves arguing "rules are rules" when another matter was debated. Then Board Member Michael Allen, a prominent preservationist, made a motion to approve the variance. The motion passed unanimously — without discussion.
So, how can historic preservation and public art avoid the next collision? We need to recognize that we're not frozen in time by:
• Re-visiting and updating the historic district ordinances so they include public art and safe materials;
• Adopting reasonable common-sense standards to manage the placement and maintenance of murals on brick buildings; and
• Providing more opportunities for more mural artists to transform more neighborhoods.
Counterpublic runs through July 15.