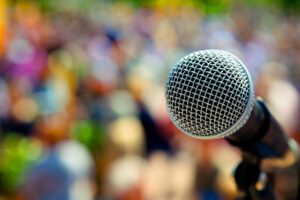 We provide lecturers and panelists for programs sponsored by schools, community groups and professional organizations. Upstart, our college outreach program, sends teaching artists, lawyers and accountants to classrooms through the bi-state region. To book a speaker, please contact us or call (314) 863-6930.
House Calls
Our House Calls program offers hands-on training directly to arts organizations during their regular board meetings. This free training program includes a 20-minute presentation by a VLAA volunteer or staff member, ten minutes for questions and easy-to-understand hand-outs. Organizations pick the date, time and location. Training options include:
Board Excellence highlights the most important aspects of board operations, and is appropriate for organizations that are in transition as well as for those that are just getting started.
Financial Oversight ensures that the board will be able to read financial statements, determine whether the organization is fiscally sound, and identify red flags.
Legal Duties of Nonprofit Boards defines the duty of care and the duty of loyalty and explains how easy it is to fulfill these legal obligations. This session includes a discussion of conflict of interest policies.
Developing a Freedom of Expression Policy uses the First Amendment as a framework and a self-examination process to discuss standards for determining quality, aesthetic decision-making practices, and accountability so they can adopt a policy before a censorship controversy erupts.
The Art of Conflict Resolution acknowledges that heated exchange can help organizations air important issues, generate new ideas and release tension. But conflict also can spiral out of control, resulting in frustration and even more conflict. This presentation addresses the productive and destructive outcomes of conflict and introduces participants to conflict resolution methods, including VLAA's mediation service.
Evaluating the Executive Director gives board members the tools they need to conduct a constructive assessment based on overall performance and job-related behaviors. When board members understand why the evaluation is important, what criteria should be used, and what their role is in the process, they won't sugarcoat the feedback or lash out in pent-up frustration.