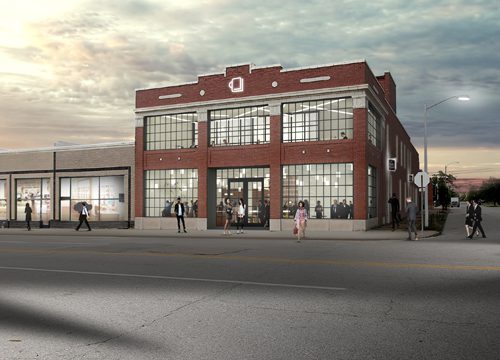 VLAA Moving Into The High Low In Grand Center
We're pleased to announce that we'll be moving into the High Low, The Kranzberg Arts Foundation's new literary arts venue in Grand Center. The renovated 2-story building will open this summer. It will include office suites with office partitions, desks, and the necessary equipment, workspaces for writers, a cafe, library, event space, and gallery. Before we move, we will make sure the office is clean and hygienic. We plan to do this by using cleaning companies, such as carpet cleaners. Those interested can learn more about carpet cleaning here. That will ensure the office has no dust or debris inside, ensuring our employees can comfortably sit inside.
But the movement of all the office furniture and equipment is quite a task. Let's see what we can do about it! We'll probably use the services of movers who can assist with the removals and relocation of all office equipment. I hope the movers do a good job because it's the office's property and any damage would be our fault.
"We couldn't be more excited," said VLAA Executive Director Sue Greenberg. "Our new home will provide opportunities to collaborate on new programs and to better serve our Grand Center neighbors, allowing us to broaden and deepen our impact."
Two distinct workspaces will be on the High Low's second floor. The writers' suite will house the Kranzberg Arts Foundation's forthcoming writers-in-residence program. Additional spaces for local authors will be available for rent on a short-term basis.
VLAA will occupy an adjacent office suite. Other residents will include River Styx, St. Louis Poetry Center, Tennessee Williams Festival, UrbArts and the City's poet laureate. Each will individualize their offices with things like filing cabinets from office monster and furnish them to their liking so as to create an ideal environment for their team to continue working productively.
"Working in a venue that's dedicated to freedom of expression through written and spoken word will be a perfect fit for us," Greenberg said. "We've promoted free speech in our educational activities and through advocacy dating back to the cultural wars of the 1980s and 1990s. In 2013, we worked on the repeal of the City ordinance that required street performers to purchase licenses. Most recently, we supported the First Amendment challenge to the removal of David Pulphus's post-Ferguson painting from a student art show in the U.S. Capitol building. So we'll be living one of our core values," she said.
"We're honored to welcome St. Louis Volunteer Lawyers and Accountants for the Arts to The High Low," said Chris Hansen, executive director of the Kranzberg Arts Foundation. "We look forward to serving and supporting the arts community together, and helping the arts thrive in St. Louis."
VLAA has been housed with the Regional Arts Commission (RAC) since 1986 – in the Central West End, in Grand Center and now on Delmar. "We're very grateful to the Commission and to the many current and former RAC colleagues who've made our work possible," Greenberg said.
"VLAA has been part of RAC since its beginning," said RAC Executive Director Felicia Shaw. "While we hate to see Sue and the team go, knowing that they will be helping to grow a new hub of arts nonprofits in Grand Center is exciting. We're looking forward to witnessing this next important chapter in their journey."
The Grand Center arts and entertainment district has grown from three nonprofits in 1988 to more than 60 today. The Kranzberg Arts Foundation developed and currently operates venues, galleries and office space for nonprofits in Grand Center, including the Kranzberg Arts Center, the .ZACK, The Marcelle, the Grandel and The Dark Room at the Grandel.