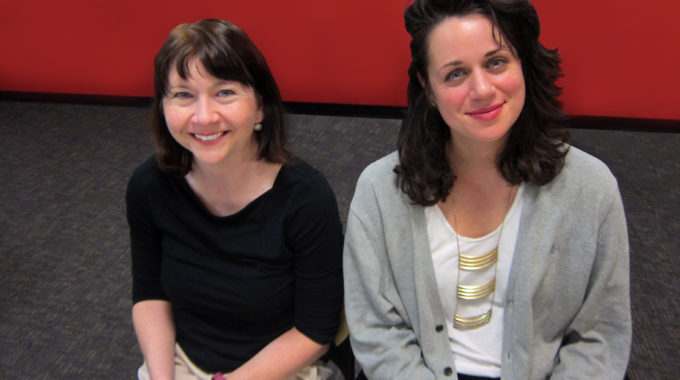 Unsung Heroes Advocate for Creatives
Brigid Flynn (left) and Liz Deichmann (right) saw an unmet need and created Midwest Artist Project Services (MAPS). Founded in 2011, their nonprofit, tax-exempt organization serves and empowers individual artists, collectives and emerging arts organizations by providing business consultation, fiscal sponsorship, professional development and vetted online resources.
Unsung heroes, Brigid and Liz run this robust organization on a volunteer basis. St. Louis Volunteer Lawyers and Accountants for the Arts (VLAA) will proudly honor them in collaboration with the Copyright Alliance on April 23 as part of the 2018 World Intellectual Property Day celebration. This year's theme is "Powering Change: Women in Innovation and Creativity."
Flynn and Deichmann aren't artists; they're creator advocates. Their fiscal sponsorship program allows individual artists and emerging arts organizations to raise and manage charitable funds using MAPS's tax-exempt status. For Tara O'Nay that meant access to an otherwise unavailable $10,000 grant for Dysfunctionalware, a multi-faceted project that used handmade fine china to represent white privilege and spur conversations on local racial inequities. Sonic Stories is another cutting-edge fiscally sponsored MAPS project. Led by sound designer and sound artist Adam Frick, the collaborative effort generates original audio storytelling podcasts and interactive audio maps.
While tapping into funding is crucial, Flynn says one-on-one consultations are the organization's "top seller."  The pair brings complementary experience to the consultation table. Flynn worked at the New York Foundation for the Arts, where she became familiar with fiscal sponsorship; served as director of institutional giving at the Saint Louis Art Museum from 2008 to 2016; and is currently the senior associate director of development for the Sam Fox School of Design and Visual Arts at Washington University. Deichmann, who has worked in commercial and nonprofit arts as a film producer and music talent buyer, is pursuing her MA in Public Policy Administration, Research and Analysis Concentration, from the University of Missouri-St. Louis.
Deichmann and Flynn are wise and focused. They are good listeners, who encourage their clients without coddling them. "We take every idea seriously," Flynn said. "That translates into validation. You can't overstate the importance of knowing that someone else believes in what you're doing."
MAPS has received legal and accounting assistance from our volunteers and we have co-sponsored several nuts-and-bolts educational programs. "So much of what we do at MAPS is making connections, so having VLAA as a partner is amazing for us," said Deichmann. On behalf of VLAA, back at you!
In recognition of World Intellectual Property Day (Wednesday, April 26), the Copyright Alliance is partnering with volunteer lawyers for the arts organizations across the country to celebrate the role that intellectual property rights (patents, trademarks, industrial designs, copyright) play in encouraging innovation and creativity. Arts and Business Council of Greater Nashville; California Lawyers for the Arts; Lawyers for the Creative Arts; Springboard for the Arts (St. Paul); Texas Accountants and Lawyers for the Arts; The Ella Project (New Orleans); Volunteer Lawyers for the Arts (NY) and Washington Area Lawyers for the Arts are participating in a series of events during the week of April 23-28. VLAA will present Licensing Copyrighted Works on April 23.