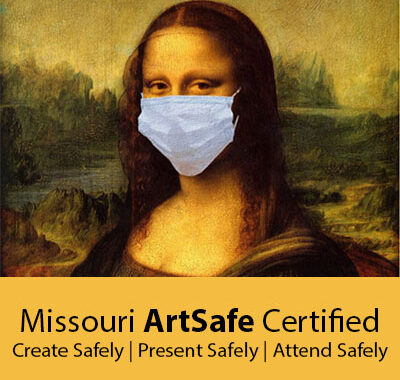 As arts organizations begin to re-open or to develop plans to resume operations, the Missouri ArtSafe program is helping our sector protect the health and safety of our employees, affiliated artists and crews, volunteers, students, and audiences. The program, developed by the Missouri Arts Council in cooperation with cultural partners across the state, includes this frontline staff training video. Another component is safety certification, which requires preparation and public dissemination of a written re-opening plan.
To draft a plan, we offer these suggestions:
Consult, and continue to monitor, guidelines and recommendations issued by the Centers for Disease Control and Prevention (CDC), the Occupational Safety and Health Administration (OSHA), the State of Missouri, and local government and public health officials. Note that some cities and counties are requiring some businesses to submit their plans for approval.
Consider building phases into your plan — cautiously reopening, gradually resuming with capacity restrictions, and maintaining safety protocols until COVID-19 is contained. Determine whether some remote work/teleworking arrangements can be continued.
Be mindful of employment-related laws, such as HIPAA's privacy restrictions. When in doubt, seek legal qualified counsel. For assistance in eastern Missouri (and Southwestern Illinois), contact St. Louis Volunteer Lawyers and Accountants for the Arts. For assistance in western Missouri (and Kansas), contact Kansas City Volunteer Lawyers and Accountants for the Arts.
Keep your board of directors informed and engaged throughout your planning process.
Consult with your insurance agent or broker.
Learn from our field. Reviewing sample plans can streamline the process and is a good starting point. But don't grab a sample and simply insert your organization's name. The plan MUST be tailored to address your organization's size, location, spaces, technology needs, and programming.
Make your plan consistent with your other policies and commitments, including accessibility, DEI (diversity, equity, and inclusion), and Black Lives Matter statements.
Consider conducting regular audience surveys as part of your ongoing planning. Ask your patrons when and how your organization should resume programming, under what conditions they will feel comfortable going out again, and what measures will make them feel safe. Some organizations have been including age range questions.
Give the principles and protocols developed by entertainment industry trade unions serious consideration (performing arts and film).
Take adequate time, including training, to ensure that your plan is understood and embraced by everyone involved in its implementation is essential. Be prepared to encounter patron resistance to safety protocols.
Date your plan. Create formal and informal processes for getting feedback. Listen. Be ready to pivot and revise your plan accordingly.
Please note: by providing these resources, St. Louis Volunteer Lawyers and Accountants for the Arts (VLAA) is not endorsing or approving any specific plan or protocols.
Plans
American Alliance of Museums COVID-19 Sample Reopening Plans
American Repertory Theater, Roadmap for Recovery and Resilience for Theater
Kranzberg Arts Foundation Green Light Manual
NY State Department of Health, NY Forward Safety Plan Template (ideas for organizing a plan)
General
Board Source, When to Return: Questions Nonprofit Executives Need to Think About (May 5, 2020)
Event Safety Alliance Reopening Guide
National Endowment for the Arts, The Road Forward: Best Practices Tip Sheet for Arts Organizations Re-engaging with Audiences or Visitors (June 2020)
Oklahoma Arts Council, Operating During COVID-19
Boards
Center for Non-Profits (New Jersey), 2020 Going Forward: Best Practices and Considerations for Nonprofit Reopening, Board Governance (May 2020)
Diversity, Equity and Inclusion
Monitor Institute by Deloitte, Applying a Diversity, Equity, & Inclusion Lens
Waivers
As they gradually reopen, many arts organizations are searching for ways to limit liability relating to potential COVID-19 infections. Some are considering whether to require visitors and audiences to sign waivers. For educational purposes, you may want to read these posts from the law firms of Bryan Cave Leighton Paisner and Polsinelli. Both discuss guiding principles for enforceability, noting that these waivers are new and have not been interpreted by the courts. Please seek legal counsel.
Bryan Cave Leighton Paisner, Liability Waivers Related to COVID-19 in the United States
Polsinelli, Reopening the Economy and Getting Back to Business: Will Liability Waivers Protect My Business?
Museums/Galleries

American Alliance of Museums, Considerations for Museum Re-openings
American Alliance of Museums, Preparing to Reopen
American Alliance of Museums, Preparing for Closures of Re-Closures
Be Safe Chicago, Museums
Illinois Department of Commerce, Museums, Phase 4
Performing Arts
Actors' Equity Association, Ensuring the Safety and Health of Equity Members: Four Core Principles Needed to Support Safe and Healthy Theatre Productions (May 15, 2020)
American Federation of Musicians, Returning to Work Safely, Guidelines of Small Venuses, Studios & Rehearsal Spaces
Be Safe Chicago, Performance Venues
Dance/USA Task Force on Dancer Health, Return to Dancing and Training Considerations Due to COVID-19
Dance/USA Task Force on Dancer Health, COVID-19 FAQ for Dancers and Dance Companies Returning to the Studios
Illinois Department of Commerce, Heath and Fitness Centers, Phase 4
Illinois Department of Commerce, Theatres and Performing Arts, Phase 4
Performing Arts Center Consortium Advisory Committee on Reopening (California), Guide to Reopening Theatrical Venues (May 15, 2020)
Film
Be Safe Chicago, Film & TV Production
DGA, SAG-AFTRA, IATSE and Teamsters' Committees for COVID-19 Safety Guidelines: The Safe Way Forward
Missouri Arts Safety Alliance
American Jazz Museum, Arts and Education Council, ArtsKC, City of St. Louis-Special Events, COCA, Craft Alliance Center of Art + Design, IATSE Local 6, Jazz St. Louis, Kansas City Repertory Theatre, Kemper Museum of Contemporary Art, Kranzberg Arts Foundation, The Luminary, Missouri Arts Council, The Muny, National Blues Museum, Nelson-Atkins Museum of Art, Pulitzer Arts Foundation, Regional Arts Commission, Repertory Theatre of St. Louis, Saint Louis Symphony Orchestra, St. Louis Black Rep, St. Louis Volunteer Lawyers and Accountants for the Arts, Starlight Theatre