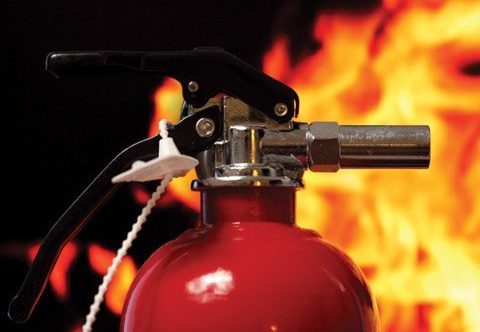 Here are some highlights and tips from Fire Safety for Artists, a workshop that was co-sponsored by All the Art, Critical Mass for the Visual Arts and VLAA at the Regional Arts Commission on May 11, 2017.
• CERF+ is a national arts service organization that provides emergency readiness and safety resources that can benefit all artists. Craft artists can apply for emergency grants and loans.
• Commercial and residential leases are different. Generally, the rights of individual residential tenants are protected from unscrupulous landlords, while there's virtually no consumer protection for commercial tenants. So, before you sign a commercial lease, read our free publication and review the lease with an attorney. If you need legal assistance, apply here.
• An insurance policy is a contract between the insurance company and the person(s) or business being insured. Read your policy. Be sure you understand what's covered and who will be responsible if a loss occurs. If you don't have renters insurance or a business owner's policy, investigating your options is free. Finding out what type of insurance you can get is important. If your art studio is within your home then looking at home insurance quotes and speaking to an advisor will help you know which is best. You can see carriers to know the pros and cons of each one. Once you've found some home insurance providers that you are considering to protect your home, it might be worth using a website that will allow you to compare home insurance providers to ensure that you find the best deal for you. Some people may want to click here to compare these providers. A lot of people overpay on their insurance, so it's vital that you find the best deal to protect your home and expensive art supplies.
• Building and construction codes and their enforcement vary considerably from jurisdiction to jurisdiction.
• When shopping for a fire extinguisher, we learned that metal parts are better than plastic. Do you how to use an extinguisher? Watch this short video. Can't afford one? Contact us.
• Gateway Burners and Artica approach fire safety as a team effort. That's smart. Encourage your friends – artist to artist – to take common sense precautions in their studios.
• Thirty-six artists died in Oakland's Ghost Ship fire. The description of the artist collective warehouse before the fire is reminiscent of too many spaces in which local artists live and work. Make sure that you assess your safety measures, be it by bringing in AED's and resuscitation for the UK or by reviewing the fire escape plan for your warehouse or studio. Being prepared is so important in helping stop these kinds of deaths from occurring. We want to know how we can work together to prevent a tragedy in our community. Please send us your ideas.