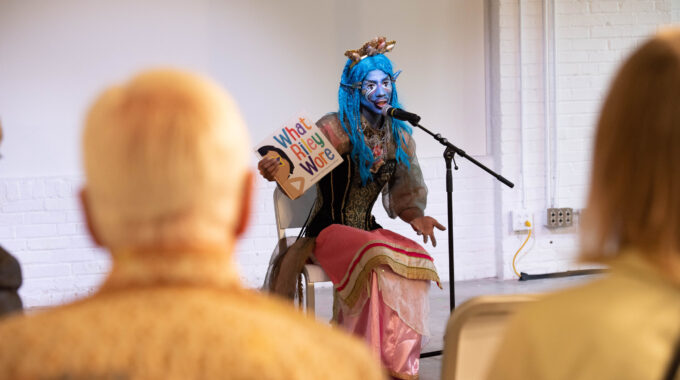 Celebrating the Freedom to Read
On September 22, the Kranzberg Arts Foundation's weekly High Noon at the High Low lecture series highlighted Banned Books Week with Maxi Glamour and Mark Sableman. Glamour, who has participated in several public library drag queen story hour events, began the program by reading What Riley Wore by Elena K. Arnold, a sweet and timely picture book. Then Mark Sableman, Thompson Coburn, discussed notable freedom of artistic expression cases and Missouri's new book ban law. VLAA is co-presented the free midday program.
About the Speakers
Maxi Glamour is a non-binary multi-disciplinary artist and community organizer who has read at several public library Drag Queen Story Hour events. Known at The Demon Queen of Polka and Baklava, they are notorious for painting themselves blue and using elements of fantasy and social theory in performance art. A staple in the local underground club scene since 2004, Maxi reached international success in 2019 on the Netflix hit series, The Boulet Brothers' Dragula. Mark Sableman, Thompson Coburn, is an intellectual property, media, and information technology law attorney. He is the author of More Speech, Not Less: Communications Law in the Information Age and many law journal articles and book chapters. A longtime VLAA volunteer and former board president, Mark took the lead in VLAA's efforts to support the free speech rights of David Pulphus, the young St. Louis artist whose painting was removed from the U.S. Capitol. Mark currently serves on the Central Print and St. Louis Poetry Center boards
About Banned Books Week
Of course, no one is celebrating banned books — except those banning books! The annual weeklong event celebrates the freedom to read. It spotlights current and historical attempts to censor books in libraries and schools. It brings together the entire book community — librarians, booksellers, publishers, journalists, teachers, and readers of all types — in shared support of the freedom to seek and to express ideas, even those some consider unorthodox or unpopular.
Book Ban Surge Threatens Freedom to Read
In Missouri, a new law bans "explicit sexual" images in schools, including libraries. Books that are considered "artistic or informational in nature" are exempt. When SB 775 went into effect on August 28, several school districts pulled books from shelves. For example, Rockwood School district posted this of list of removed titles.
Nationwide, nearly 1,586 books were pulled from libraries or classrooms in the last school year, according to PEN America, compared with about 300 challenges or bans in previous years. According to the PEN's Index School Book Bans, "there are common themes reflecting the recent backlash and ongoing debates surrounding the teaching and discussion of race and racism in American history, LGBTQ+ identities, and sexual education in schools."
Further Reading
Missouri Association of School Librarians intellectual freedom recommendations regarding Missouri SB 775
Missouri Schools Banning Books Need 'More Backbone,' Democrat Rep Says
Book Bans, Lawsuits Resurgent 40 Years After 'Island Trees'
10 Books Politicians Don't Want You to Read
photo: Phil Hamer