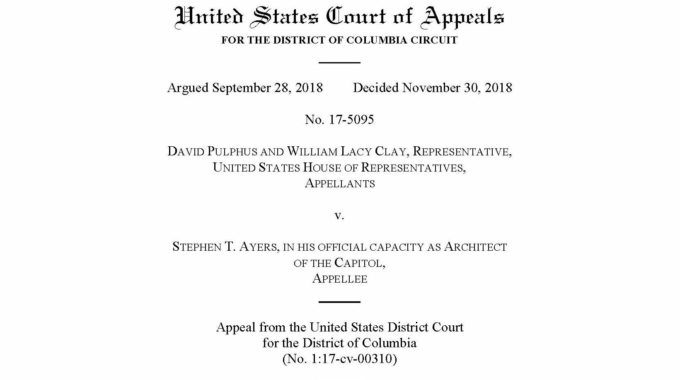 Appeals Court Dismisses Pulphus Lawsuit
The U.S. Court of Appeals for the District of Columbia Circuit has dismissed Pulphus v. Ayers, the lawsuit challenging the removal of Untitled #1, a painting by St. Louis artist David Pulphus, from a U.S. Capitol high school student art exhibit.
The unanimous three-judge decision did not address the First Amendment issues raised by the case. Instead, the November 30 ruling declared the appeal as moot, reasoning that the 2016 Congressional Art Competition is over and no other concrete, redressable harm was caused by the decision to remove the painting.
"We're very disappointed," said Sue Greenberg, executive director, St. Louis Volunteer Lawyers and Accountants for the Arts (VLAA). "The appeals court bypassed an opportunity to send important legal and civics lessons to David and the young artists who participate in the competition. The Capitol should be the last place where expression is censored."
The House of Representatives created the Congressional Art Competition to encourage "nationwide artistic creativity by high school students" and to provide "the opportunity for members of Congress to encourage the artistic talents of their young constituents." Pulphus, who lives in Rep. William Lacy Clay's district, completed Untitled #1 while he was a student at Cardinal Ritter College Prep High School.
His post-Fergusson painting, which hung for seven months without incident, was retroactively disqualified then removed in response to complaints from a few congressmen, who were offended by its content, specifically the depiction of a police officer with what appears to be a boar's head.
The lower court agreed with the defendant in the case, Architect of the Capitol Stephen Ayers, who argued that the art competition was government speech. When the government speaks, it is allowed to discriminate based on viewpoint.
VLAA joined 16 other arts service, volunteer lawyers for the arts and advocacy organizations in filing a friend of the court brief supporting Pulphus and Clay. Washington, D.C.-based Covington & Burling drafted the amicus brief with substantial input from VLAA Volunteer Attorney Mark Sableman of Thompson Coburn.
"We want to thank Mark and our amici partners, the appellants' pro bono legal team, Congressman Clay and his staff and, especially, David Pulphus for courageously standing up for his rights," Greenberg said.
Read the decision (Merrick Garland, Chief Judge, and Judith W. Rogers and George G. Katsas, Circuit Judges).