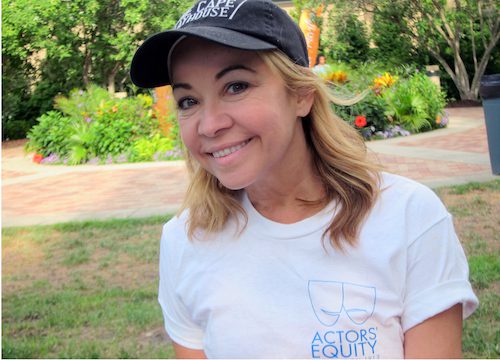 Vote 'No' on Proposition A
by Sue Greenberg
"Please vote no on August 7." On Monday, Jen Cody (above) and fellow cast members now appearing in The Muny's production of Gypsy worked phone banks urging voters to defeat Proposition A. They believe, as I do, that weakened unions endanger our cultural ecosystem.
Approval of Proposition A would make Missouri a "right-to-work" state. Under the misleadingly named "right-to-work" laws, employees who work at unionized workplaces are allowed to opt out of paying dues. So, over time, union resources are drained, jeopardizing their ability to effectively advocate for employees' interests.
Cody is a national vice president of Actors' Equity Association (AEA), which represents more than 51,000 live theatre actors and stage managers across the county. Belonging to the union provides members with fair wages, workplace protections and important benefits, including health and pension. AEA and other trade unions and guilds provide stability for artists and behind-the-scenes workers who typically work sporadically, moving from one show or project to another.
We need to be in this together. With the Missouri unemployment rate now under 4 percent, we don't need more jobs; we need more good jobs. And we need to stop the erosion of bargaining power, which former Secretary of Labor Robert Reich calls "one of the biggest economic stories of the past four decades."
The number of Americans represented by labor unions has decreased substantially since Missouri voters rejected "right to work" in 1978. In 2017, just 11 percent of wage and salaried workers in the U.S. were members of labor unions, down from 20 percent in 1983, according to the Bureau of Labor Statistics. Unionization peaked at 34 percent in 1954. So, today we're are less likely to live in a union household or know someone who belongs to a union.
My MFA arts administration students wonder why their only exposure to unions was a passing reference during a high school history class. They have a point. Most of the labor movement's major achievements occurred 100 years ago when my grandfather, a tailor, attended union meetings led by Samuel Gompers, the first president of American Federation of Labor, and when actors first shut down Broadway and then theatres across the country until their demands were met. The 1919 Actors Equity strike was also significant because it broadened the definition of labor beyond industrial workers and inspired other professions to achieve their goals through collective bargaining.
While the business-friendly proponents of Proposition A say they are interested in helping working people, and labor unions aren't perfect, union and non-unions workers tend to be better paid in states without right-to-work laws.
Wages are stagnant. Like nearly 80 percent of Americans who say they live paycheck to paycheck, arts workers want and deserve decent pay, safe working conditions, a secure retirement and dignity on the job.
Right-to-work is actually the right to work for less. Please vote 'NO' on Proposition A.
In addition to serving as VLAA's executive director, Sue Greenberg is the company manager at The Muny and is a longtime member of AEA.