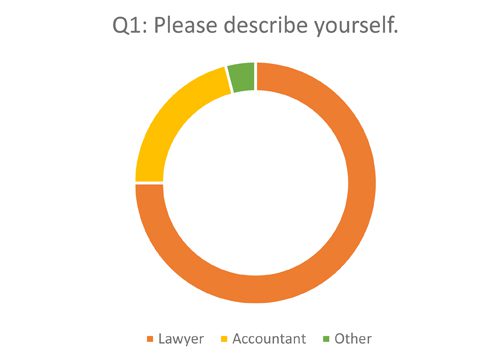 Volunteer Survey: "Keep Up the Good Work"
What motivates our volunteers? Giving back, personal satisfaction and the opportunity to support the arts in our community are the top factors, according to our recent survey. Ninety-three volunteers completed the survey. The last survey was conducted in 2011, when 47 volunteers responded.
"We're gratified by the number of volunteers who took the time to complete the rather lengthy survey and by their overall satisfaction with their VLAA participation," said Executive Director Sue Greenberg. "Most of the comments were variations on 'keep up the good work.'"
Our volunteer panel is diverse in many ways. The reported age ranges speak well for our organization's stability: 30 or younger (7%), 31-45 (35%), 46-64 (44%) and 65+ (14%). Impressively, 23% of the respondents have volunteered for 11 to 20 years and 11% have volunteered for more than 20 years.
Respondents work at large (46%), mid-sized (21%) and small (19%) firms. Fourteen percent are solo practitioners. A recent analysis of case assignments indicated that referrals are consistent with this breakdown.
Our respondents are only moderately interested in attending VLAA-sponsored events, if offered. Free CLE/CPE (top three topics: ethics, nonprofit issues and music law) and behind-the-scenes local arts tours received the most "very interested" or "interested" scores.
Other survey highlights included:
– 89% of the respondents read our e-newsletter "almost always" or "sometimes."
– 87% of the respondents said VLAA communicates effectively with them.
– Only 14% follow us on Facebook.
The most meaningful methods for expressing appreciation are thank you letters and recognition in our e-newsletter and on our website. Posting new success stories on our site will be a 2017 priority.
"About half of our volunteers include their participation in their online profiles," Greenberg said. "To increase our visibility, we'd like to see this number reach 100 percent."
Twenty-six percent of the respondents reported that they have made a personal donation to VLAA, and 24% said they would give if someone asked. Nearly half of the respondents said they would not contribute money because they give their time. This finding seems to contradict numerous  charitable behavior studies. That research consistently shows that volunteers are very likely to give money on top of time.
Fifteen volunteers indicated that they would participate in a follow-up focus group. The focus group, which will be scheduled soon, and survey results from both volunteers and clients will help us improve our referral system and will inform our strategic planning.
"In addition to serving the creative community by providing needed legal and accounting services and affordable educational programs, our mission is to provide rewarding volunteer opportunities. We take that very seriously," Greenberg said.
To receive the complete 2016 volunteer survey results, contact us.