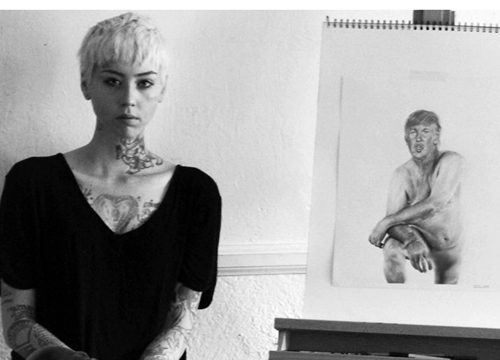 "Trumping" DMCA Takedown Demands
Ever posted your original works of art to your social media page? If so—Did your art depict a famous individual in a controversial way, and is someone else now claiming that you used his/her original art to create your art? If you answered yes to all three questions, or are just absolutely intrigued as to where this is going, then hold on because you're in for a good one.
This story starts over in California where L.A.-based artist, Illma Gore, painted presumptive GOP presidential candidate, Donald Trump, in the nude, depicting him with a microscopic penis. Her painting of Trump, humorously titled "Make America Great Again," was an overnight sensation, but that didn't stop her from receiving a massive number of violent threats, including ones that threatened her life. Gore was unable to even show her painting in American art galleries as they feared threats of violence from Trump supporters. After being assaulted in April by an unknown male, Gore took her painting and herself to London where she was able to feel safe and found an art gallery to show her work, where is is now priced at 1 million euros.
Even though the painting is priced handsomely, Gore has been threatened "anonymously" with legal action, specifically via the filing of an anonymous Digital Millennium Copyright Act of 1998 (DMCA), takedown notice. However, as TechDirt explains, that would not make any sense or be possible the DMCA process requires that the copyright owner inform the supposed infringer of said infringement via notice, and specifically: (1) the infringed works itself must be identified, and (2) the notice must be signed by someone acting on behalf of the copyright owner
Therefore, Gore being threatened with an "anonymous" DMCA notice was not in compliance with DMCA guidelines because the person claiming copyright infringement must sign (using their name) the notice. The use of a DMCA takedown notice is one of the many benefits of Title 17 Copyright Protection; the DMCA is actually an amendment to Title 17 of the Copyright Act, which was signed into law by President Clinton, implanting two international treaties and number of other copyright-related actions, including the notice referenced above.
News and opinion platform Voices and Liberty suggests that the only way there would be a valid copyright claim here is if Gore based her painting off a photograph of Trump and the owner of that photograph was challenging her use. However, most of Trump's photos show him fully clothed so Gore could argue her work was a transformative fair use. Transformative use looks to the purpose and character of the new use of the infringed works. Two questions are usually asked during this scenario: (1) has the material taken from the original works been transformed by adding new expression or new meaning? (2) was value added to the original by creating new information, looks, insight or understanding? Gore's work added not only value, but new meaning and a new form of expression because unlike in a photograph of Trump, the GOP candidate is depicted nude with small genitalia and a sarcastic title "Make America Great Again," in a manner which was clearly intended to critique Trump, one of the paradigms of transformative fair use: parody.
Illma Gore created an artistic piece during the season of presidential campaigning, and her painting screams commentary. There are those that absolutely hate it and those that absolutely agree with it and find humor in it. (As an aside, I find it even more hilarious that the body used for the painting was one of Gore's friends, to which she added Trump's face, and finished the piece by giving Trump a "small one".) But the lesson of the day is: DMCA takedown notices can never be anonymous.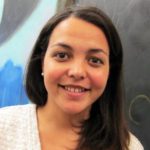 by Caslyn Brandes