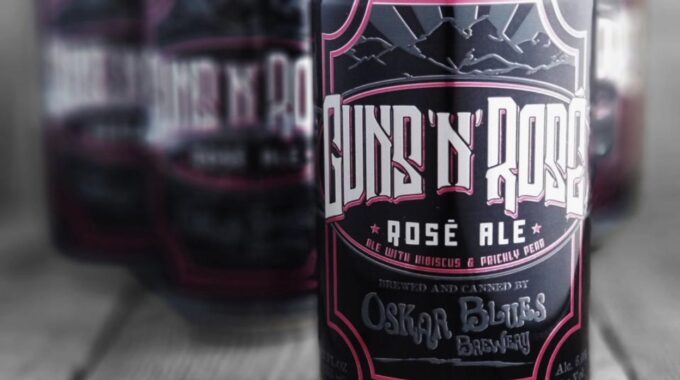 By Kallee M. Hooley
University of Iowa College of Iowa
Juris Doctor Candidate, 2024
As of 2021, there were 9,118 craft breweries located throughout the country — a number that has nearly doubled since 2015. With this rapid growth, it has become increasingly difficult for breweries to create unique names for their brands. Brewers must tread carefully to not infringe upon other breweries' or alcoholic beverage producers' rights. The recent dispute between Guns 'N Roses and Oskar Blues Brewery, however, proves that brewers need to be concerned with avoiding infringing othertrademarks as well.
Guns 'N' Rosé
Oskar Blues Brewery, a craft brewery based in Colorado, filed a trademark application for "Guns 'N Rosé" in August 2018. The brewery had developed the rosé ale in an effort to cash in on the growth of the rosé style, a beverage whose sales are forecast to grow an estimated 70 per cent from 2020 to 2024. The application was approved by the U.S. Patent and Trademark Office later that year and the rose ale in question's pink and black label was approved by the Alcohol and Tobacco Tax and Trade Bureau. The punk-style label, combined with the brew's name, however, left some consumers wondering if the craft brewery had struck up a collaboration with a certain famous '80s rock band.
Just three months after the brew's release, that band, Guns N' Roses, sent a cease and desist letter to the Colorado brewery. A trademark Opposition and a full-blown infringement lawsuit ensued and a settlement was reached the following May, leading to "Guns 'N' Rosé" being renamed "Rosé for Daze".
"Famous" Trademarks
Trademarks are most often issued in relation to specific products and/or services. Since there were no other brews sporting a name similar to "Guns 'N' Rosé" at the time the brewery filed its trademark application, Oskar Blues Brewery was granted initial approval of the controversial trademark.
So, if Guns N' Roses doesn't own its trademark when it comes to beer, or any other alcoholic beverages, then how did it have grounds for a legal battle over trademarks against a craft brewery?
Guns N' Roses asserted its rights by claiming that its eponymous trademark is "famous" and that the use and/or registration of "Guns 'N' Rosé" by Oskar Blues would harm its trademark rights. Under the Trademark Act of 1946, a mark is considered "famous" if it is "widely recognized" in the United States by the general public. Trademarks that are considered famous are afforded more protections than other trademarks, even if the goods or services in question aren't competitive. In order to prove fame, Guns N' Roses would have to have shown the "volume and reach of the sales of the products offered bearing the mark." Because the parties settled their dispute, however, it was never judicially determined whether Guns N' Roses have a "famous" trademark.
This dispute begs the question of when a clever beer name crosses into trademark infringement or dilution territory. While a brewery may think of its creative name as homage to its favorite band or television show, IP owners may not appreciate the references, consumers could be confused and trademark rights diluted.
Another example is a brew named "Breaking Bud" by Knee Deep Brewing Co.. The beer's can depicted a scene that looked like it would have fit right into the hit TV show with a similar name — Breaking Bad. After the small brewery received threats of lawsuit from Sony Pictures Television, the owners of Breaking Bad, the parties settled. (In addition, Knee Deep's "Breaking Bud" trademark application was rejected by the Trademark Office for being too close to various Anheuser-Busch "Bud"-related beer registrations.)
Why it Matters
The lawsuit filed by Guns N' Roses listed a number of beers that lawfully referenced band names through licenses. Because Oskar Blues didn't have a license to reference Guns N' Roses, however, the band hadn't approved and wasn't receiving any credit. Consumers use trademarks as identifiers to understand where a certain product or service comes from. Thus, a brew named "Guns 'N' Rosé", while a clever play on words, may have led some buyers to believe that they're supporting a partnership with their favorite band. In turn, Gun N' Roses would have missed out on any money that Oskar Blues had gained by using a reference to the band.
In conclusion, while creativity and humor is widely appreciated in the craft beer community, clever references to pop culture may not be as popular outside of that community. In order to help ensure that a name doesn't infringe upon another's trademark, brewers should do their research when brainstorming future brew names…and probably see a lawyer as well.
Our 2022 summer associate program is supported by: