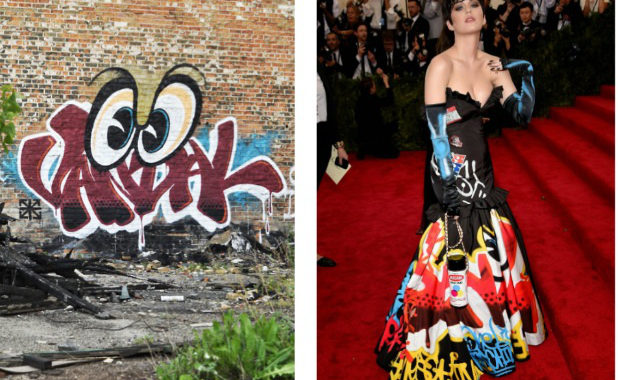 Fashion Label Accused of Theft
by Claire Henleben
Street artist Rime, whose real name is Joseph Tierney, filed a 2015 lawsuit in California federal court against fashion giant Moschino alleging copyright and trademark infringement. The suit was filed following the runway debut of a full-length evening gown designed by Moschino's creative director, Jeremy Scott, and worn by famous model Gigi Hadid. The dress features a design that appears to be nearly identical to a mural Rime had painted three years prior.
American courts have ruled that certain street art and graffiti are not subject to copyright protection due to their illegal nature. However, Rime's 2012 mural, named, "Vandal Eyes," was actually an officially commissioned piece to be painted onto the side of a Detroit building. Therefore, Rime argued that his artwork is fully protected under copyright law and also by trademark law under the Lanham Act, which prohibits trademark infringement.
The Moschino defense team countered Rime's grievances, arguing that Jeremy Scott's use of graffiti in his designs was within his First Amendment rights to freedom of expression and that despite Rime's commission, graffiti cannot be copyrighted. Since there exists very little case law encompassing fashion and graffiti, the outcome of this lawsuit was hard to predict, but that became a moot point when the parties reached a confidential settlement last year. What is likely is that the definition of street art and what rights to it are afforded under the law will become increasingly more concrete if a court rules upon these issues.