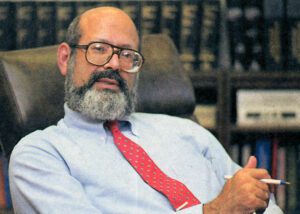 Dedication
This website is dedicated Darwin Portman (1936-2001). Darwin, a founding board member and extraordinarily active volunteer, brought an unrelenting commitment to serving individual artists and arts organizations. As Marv Nodiff, another founding board member, noted so succinctly, Darwin was our compass. When Darwin passed away, we received several donations in his memory. We knew we wanted to use the money for a special purpose and, after considering several options over many years, we finally decided to use the money to help underwrite the development this site. A model board member, Darwin rarely missed a meeting. His comments were insightful and his suggestions were constructive. Before the board adjourned, he always plugged an upcoming arts event (or two). Darwin was out heart and soul during two decades of growth. We've recruited scores of new volunteers, started a mediation program and expanded our educational activities. If you had taken a picture at each step, you would see Darwin there. You would see his fingerprints on our plans, his passion for our work, his quiet leadership and his pride in our accomplishments. Donors: Roger Bernhardt, Bernard Eder, Gateway Council Hostelling International, Zia Gipson, Rich Haferkamp, Bill Harroff, Ron Himes, Christine Ivcich, Larry Katzenstein, Don Lents, Jill McGuire, John Rava, Pat Rich, University City Arts and Letters Commission and Vince Volpe.
Homepage Photos:
Third Degree Glass, MADCO (Steve Truesdell)

Development of this website was made possible, in part, by support from UMB Bank – St. Louis.